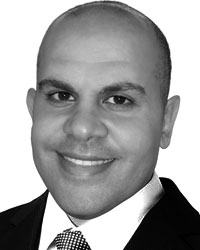 No, it´s not about the Pekinpah-movie. Ehab did not have to go from his native country Egypt because of financial circumstances… He – and his family, fortunately – left Egypt due to religious persecution. He is a coptic christian. Here he tells us something about his years in the north.
Konrad: Let´s be honest – do you really like Germany?
Ehab: Yes, I really love Germany, a country that welcomes me with my family and found freedom in life. I feel safe for my wife and children and I feel happy in a country that respects their humanity and their respects their faith. I am grateful to Germany for receiving my family and return I want to work and raise my children to be useful members of society in the future.
Konrad: What makes it desirable to live here?
Ehab: Well, I was successful in my job as a television production manager and had plans for my future and my family's future. But I have discovered the difficulties of realizing my dreams in the presence of religious discrimination and over time I decided to survive the life and future of my children.
Konrad: When you think about your country, what do you miss the most of all?
Ehab: I think about my country most of the time and I miss my parents, siblings and relatives very much and wish to see them even for one day. I miss my work, my success, my friends and my church.
Konrad: You worked as a film- and TV-producer in Kairo. What´s your job here?
Ehab: I have worked in my country as a production manager, cameraman, equipment facilitator and video editor for about 12 years. Currently I'm studying the german language and looking for work in the same field, I have my certificates and my experience papers translated and already sent to many of companies but I did not have luck yet. It is my great dream to invest my experience here in Germany as a normal german person.
Konrad: What is your most beloved international movie you ever saw?
Ehab: There was a movie I saw it once on television and I did not forget it and I searched for it several times it called "The Green Mile". A film shows the difference between good and bad and the deep interaction of the characters. This is a thoughtful, intelligent movie with outstanding direction. I invite you to watch it.